Boojum Charitable Fund (BCF) directs funds donated by clients of Boojum Expeditions to support sustainable development in Mongolia. We work on projects that benefit the communities we know well and work through local individuals with proven judgment and commitment. BCF projects build on financial support from Boojum Expeditions, starting in 1995, to the hospital and school in Renchinlhumbe, Khovsgol aimag, Mongolia where many of our adventure travel programs are centered.
Because Boojum Expeditions has full-time staff on site in Mongolia running our travel programs, we also have full-time eyes and ears in the communities where we work to ensure the integrity of the process by which funds are allocated.
Present projects
---
English Speaking Club 2019 - Present
This project's main aim is to make public school students good command of English. The project is continuing for the 2nd year. Our program is based on a movie, improve while watching a movie. We started watching The Big hero animation. Throughout this time our students listening skills were improving. Besides watching animation, we are focusing on grammar and speaking.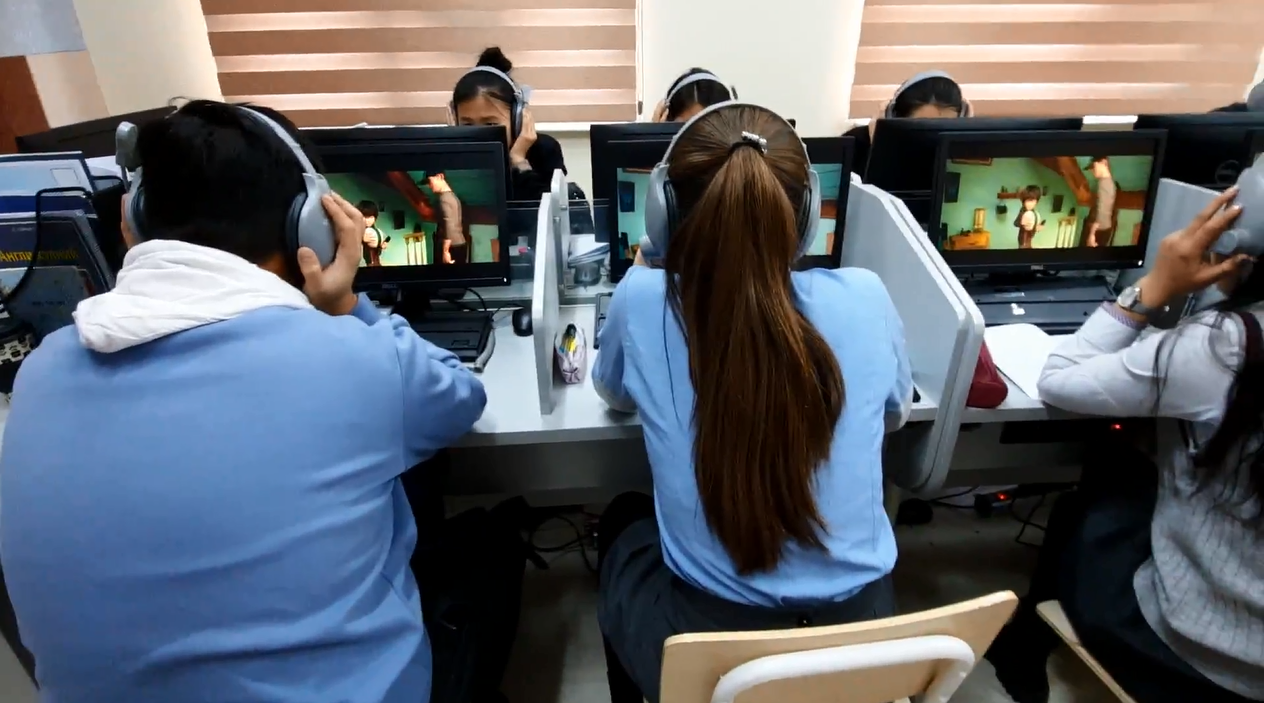 ---
Boojum Charitable Fund 2020
Every year, we support Reindeer people with the help of our kind clients through BCF (Boojum Charitable Fund). This year due to COVID-19 we didn't organize any travel to Taiga (near the Russian border where the Reindeer people live) nor to other regions. However, we wanted to continue our support for the reindeer people as much as we can. So we decided to donate medical supplies such as; First-Aid kit, basic antibiotics, pain killers, hand sanitizers, face masks, which are rare in the Taiga.
We couldn't thank you enough for your continuous support.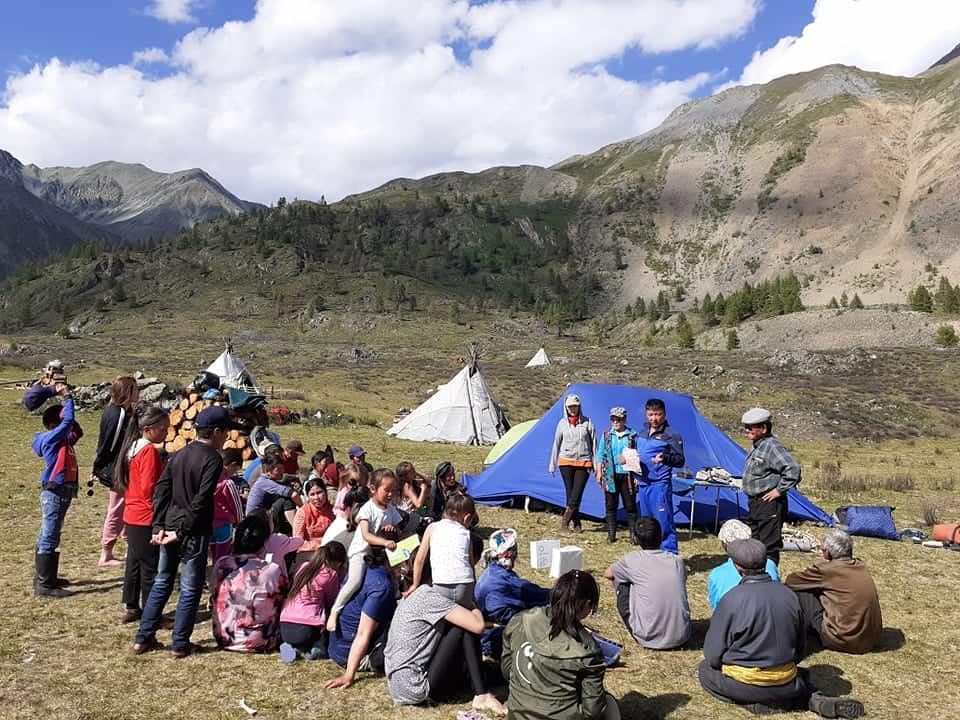 ---
We celebrated our New Year!
For the 6th year, we're celebrating New Year at school with special education #70. This year we have teamed with ZUUT Travel to reward one employee. The employee will travel to Jining Ulanqab, Inner Mongolia. Thank you very much for being part of this journey.
As we mentioned earlier, for the last 5 years with the help of direct funds donated by clients of Boojum Expeditions, we've done a lot of projects. For example speech therapy tools for articulation, class renovation, their first-ever New Year celebration, day trips, new toys, and much more. Be a part of our Charitable Fund to help people in need!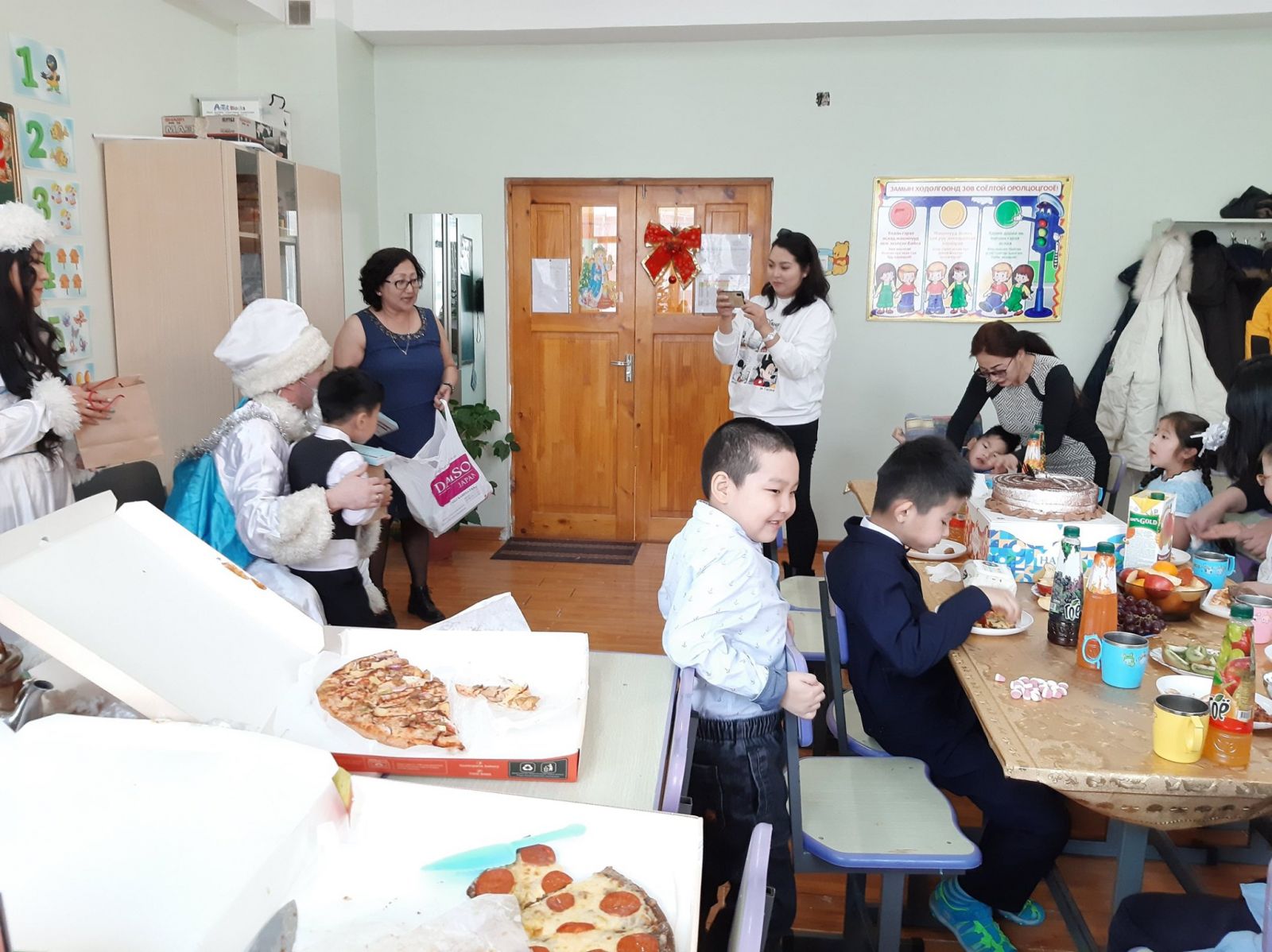 ---
The charity provides more than wheelchairs
2 years of planning and 10 days more than 1500 miles of traveling with the most amazing and inspiring team. You are the real-life changer and gave a new way of lifestyle to children and adults living in remote parts of Mongolia and, even in the capital city. We truly appreciate being part of the team! Wish you all the best!
Past Projects 2003 - 2019
English Speaking Club 2018-2019
This project's main aim is to make public school students good command of English. The project continued for 2 years. Our program was based on a movie, improve while watching a movie. We started with watching The Shrek animation. Throughout this time our students listening skills were improving. We finished the semester with Shrek play for teachers and parents. For the next we decided to change the movie, so watched Home Alone 2: Lost in New York. We observed that our students both speaking and listening skills were improved a lot since last year. To finish their class, we divided them into teams and, gave them topics to present what they learned. Please enjoy the video.
---
Special Education school project
Since 2012, we started supporting Schools of Special Educational Needs. We wanted to step up our project. Therefore in 2014, we chose one teacher/class to assist the students until they finish primary school. Last Friday our students went to Nairamdal international summer camp. It was their first time spending a day with other kids. It was one big step for helping them to socialize even more. Thank you so much for supporting our projects! Without your support, we couldn't have done it.
---
English Speaking class 2017 - 2018
This project's main aim is to make public school students good command of English. Usually, in public schools, they don't have a speaking class. To help them to improve speaking skills we invite teachers at least twice a month to help them practice.
Zud Relief 2013:
In response to severe zud in northern Khovsgol, $500 USD of fuel and fodder was provided to see herders (many of whom have been Boojum/KLM employees over the years) through until Spring.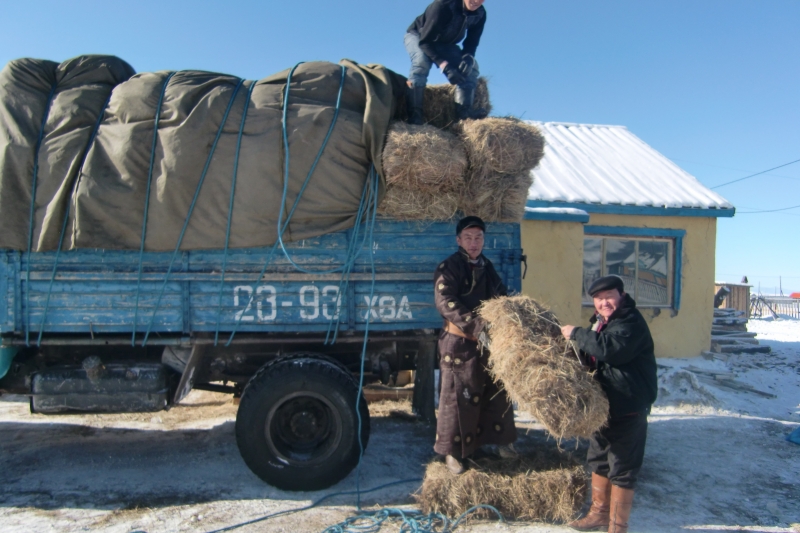 ---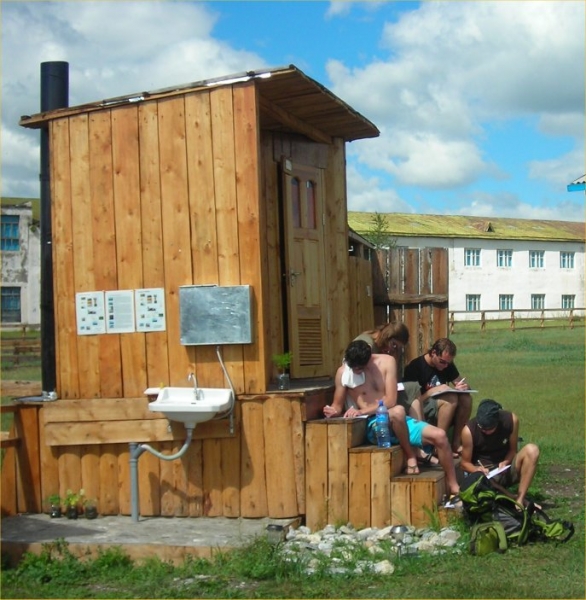 It says something about your toilet when people sit comfortably (no odor, no flies) on the front steps to fill in user surveys!
2008: Boojum Builds EcoSan Toilets in Mongolia
Boojum Expeditions and KLM staff are pioneering the introduction of EcoSan toilets, the first such implementation in a northern climate. EcoSan is a type of waterless toilet which has no odor or flies, does not pollute groundwater, and can be a source of fertilizer for crops of various kinds. In 2007, the first EcoSan toilet was installed at the Khovsgol Inn and has generated great interest amongst private individuals, schools, hospitals, and government agencies. In 2008, with a grant to Boojum Charitable Fund from several clients, Boojum built 4-5 more EcoSan toilets at monasteries, visitor's centers, schools, and tourist camps.
---
2007: Shaman's Association Forms in Khovsgol
The first meeting of shamans in Khovsgol was organized at the Saridag Inn, just before Naadam, by Kent Madin and Mishig Jigjidsuren. The purpose of the meeting was to discuss ways that tourism could help to sustain the practice of shamanism in Mongolia, without commercializing the practice. All agreed that an "organized" religion like Buddhism or Christianity is much easier to support financially since there is an organizational structure that can accept and distribute donations and other income. The group discussed how to involve local shamans in workshops at the schools, to keep the practice vibrant and alive in the eyes of young people. It was finally decided that the group would collectively make one new set of shaman "gear" (coat, drum, boots, hat, etc.) each year so that the set could be displayed for education and periodically auctioned to raise funds for the shaman society.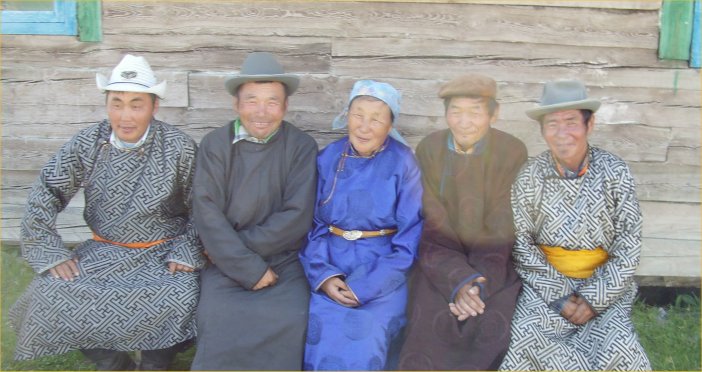 The first Board of Directors of the Darhat Shaman Society
---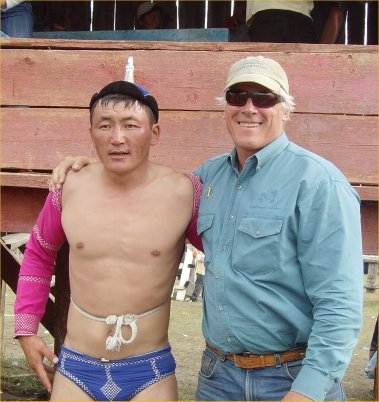 2007: A Winner at Last!
For as long as Boojum has run horseback treks in the Darhat Valley our head wrangler, Niamhu, has been wrestling in Naadam. 2007 was his year when he took top honors and took home both tugrogs and a foal. Niamhu came back from a badly broken leg two years before and a nasty face plant off a motorcycle just a few weeks before the competition. He is now a "falcon" ranking and everyone at Boojum and KLM is proud of his big win.
---
Ger Clinic:
Dr. Miklos Salgo's contributions through BCF are specifically funding a mobile clinic in the Darhat Valley and providing individual first aid kits and training in their use to families with young children.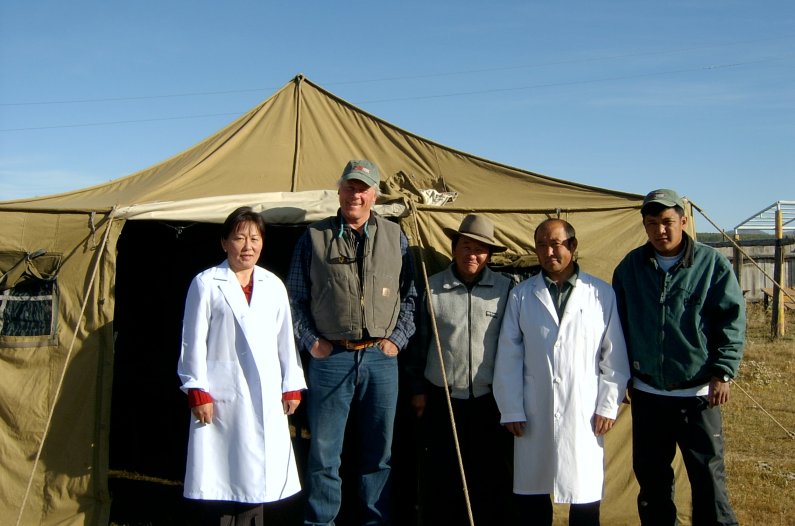 ---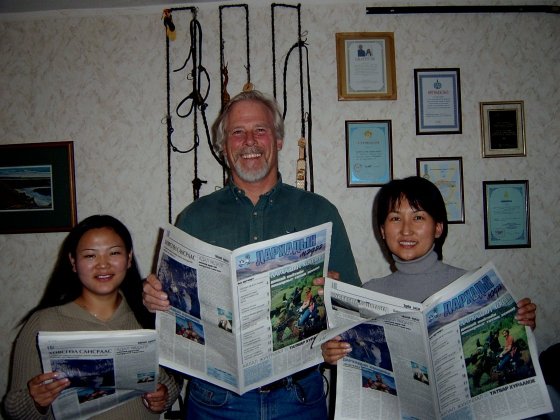 2005: Mongolian Language Newspaper Published!
Another first for Boojum and Mongolia was the publication of the Darhad News, a 16 page, four-color newspaper that informed, challenged, and inspired residents of the Darhad Valley this Fall. The newspaper featured articles about Darhad history, famous people, poetry, environmental issues, shamanism, Buddhism, and development issues. It also informed people about the potentials and pitfalls of tourism development and encouraged dialogue and discussion in the local community. Adjra (chief translator), Kent Madin, and Bobo (editor) show off the first issues hot off the press.
---
Ed Sawyer volunteers to teach English in 'Lhumbe:
Two times Mongolia traveler Ed Sawyer spent his Fall vacation in a very distant and mighty cold place, Renchinlhumbe. Ed is a very unretiring retiree and when he heard that the Renchinlhumbe school was eager to have a volunteer to assist with English teaching, he jumped right in. Ed got himself to UB and Boojum took him the rest of the way, housing him at the Saridag Inn so that he could comfortably devote his days to the classroom and his evenings to classes for local adults. Everyone at Boojum and KLM wants to say a huge thanks to Ed, whose contribution shows how private individuals, private businesses, and local communities can cooperate to everyone's benefit.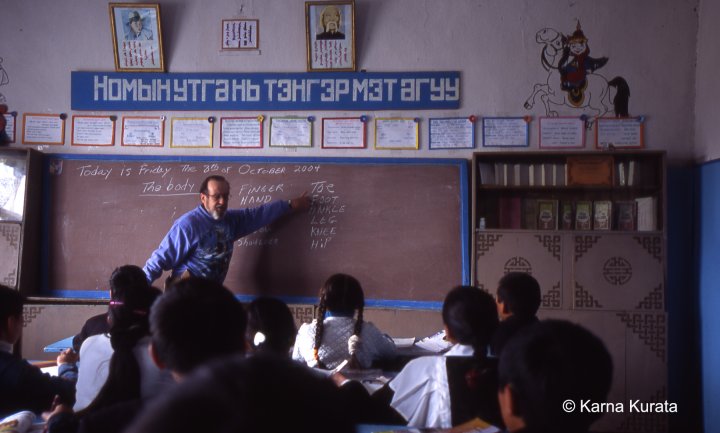 ---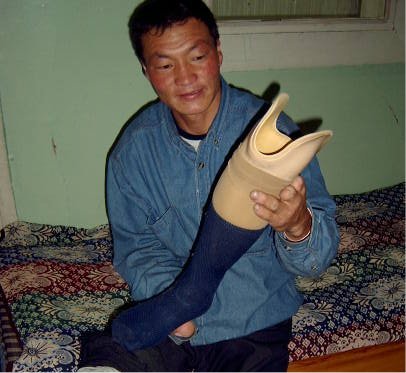 Saridag Inn's Caretaker Steps Out:
Uganji, our caretaker in Renchinlhumbe, is a remarkable guy, having lost his legs to frostbite when just a boy. For decades he has managed to ride horses, build houses and do the daily chores of life on homemade prosthetics. He demonstrates a kind of personal grit and good nature to which we should all aspire. In the summer of 2004, with the help of friends at Bioregions International, Boojum Expeditions brought Uganji to Ulaan Baatar to be fitted with brand new, state-of-the-art prosthetic legs. The only problem is that he's now several centimeters taller and keeps hitting his head on the ger door!
---
Mongolia Cowboys Meet American Cowboys in Elko:
The 20th annual National Cowboy Poetry Gathering held each year in Elko, Nevada saw and heard some new twists on song and poetry this year from a group of five Mongolian traditional performers. The haunting sounds of "horse-headed fiddle" and throat singing mixed with the more familiar twang of the guitar and fiddle and the dropped g's and drawl of Cowboy Poetry. The Mongolians impressed not only with their music but with their colorful national dress, their culinary skills, and their epic poetry. They also caught on fast to traditional American Cowboy fun like dancing and drinking.